November 6
What happened in Bathurst? Our Bathurst winner tells his story….
The winners of the 2013 Bathurst Toyota Parts Competition were
Jujnovich/Ballantynes Car Painters 102 Railside Ave, Henderson
Here is an article from Bruce and Susan of their trip which we thought would make interesting reading.
Over to you Susan……………………
First off all I would like to thank you for an awesome opportunity for us to attend Bathurst it was on our bucket list of things to do, Williment sports travel were outstanding in looking after us our tour guide Tony was amazing and a lot of fun, so was the bus driver Walter as we nicknamed him Romeo ha..
Our first stop being the Blue mountains on the way to Bathurst, what an amazing view of the mountains and we also had to get our supplies in the way of beers and munchies, there was a group of 28 in total
all ranging from young to granddads so to speak. We stayed in a lovely Motel with  amenities of daily breakfast and a pub 2 mins walk which came in handy after  a days racing.
The venue a marquee on the roof top overlooking the track by the podium, this was all catered for in the  way of drinks and food and huge Tv's to watch the racing also.
There was plenty to do with going thru the garages with the supercars in them to touring the Holden Racing Team garage as there technicians work on the race cars and also meeting Greg Murphy and having pic taken. having pictures taken with the promo girls. The racing was amazing even thou Bruce is a Ford fan and I'm a Holden Girl…
I would highly recommend other Repairers to enter this completion in future as it an amazing experience..
This next bit is about our company
Bruce started his career in 1987 as an apprentice car painter he worked for several companies over the years and decided he would like to own his own by the age of 40, He brought a little stand alone paint shop in henderson that had a panel beater beside it, he managed to get other work by door knocking from other panel beaters and also dealer work this was short lived as the panel beater decided he wanted his own paint shop and the landlord kicked us out we had 4 weeks to move, we new Ivan Jujnovich Panel beaters was up for sale and approached Ivan in April 2011 we took over as Ivan retired, we had 1 panel beater 1 painter and 1 office person we have been here since then and are pleased with new insurance contracts we have obtained, this is all due to Bruces Drive for quality work and also our 2 boys that work in the shop as apprentice panel beaters during our time here we now have 4 painters, 5 panel beaters, 2 office girls, and of course Bruce and Myself.
We would not be in this position if it wasn't for our staff they are a fantastic bunch of people, who work extremely hard for us, because of the work load now we have out grown the building we are in and now have a new building with loads of space that we can grow into this will hopefully be up and running in the next couple of weeks as we are trying to do everything ourselves in the way of booths being dismantled and re erected to try and save costs. We have invested in new machinery as in 3D  measuring machine in the last 4 months to move with the times, This business is a growing one as we need to secure the future for our children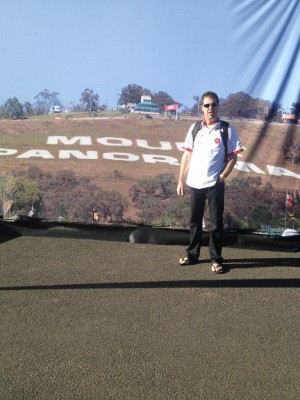 Bruce & Susan
Jujnovich/Ballantynes Car Painters 102 Railside Ave, Henderson
---