November 14
Win $1000 worth of MTA Vouchers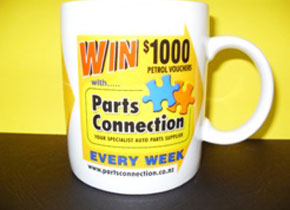 Everytime you purchase a part from any of the 14 Parts Connection Members you are given a lucky mug.  Each mug has a lucky number printed on it.  Keep your mug handy because it could win you $1000 worth of MTA vouchers.  Every Monday a new number is drawn, if you have the drawn number on your mug for that week you're a winner!  Its easy to check your number each week by phoning 0800 44 33 11, or by viewing the number on our home page.
Goodluck !
Competition Starts: Runs continuously all year
* Please note that this competition is not open to Trade Account customers.
---