October 22
Toyota Landcruiser Parts wrecking now

Just landed New and used Toyota Landcruiser Parts
Owners who need Toyota Landcruiser parts can contact  Toyota Galore by phoning Ph 0800 480 094.
We provide owners with reliable used and new landcruiser parts. Visit us at our 2 Auckland yards where you can pick and choose the landcruiser parts you want. We sell Land cruiser Alternators, Automatic Transmission, body hardware, brakes, cooling system, Electrical, Emission System, Engine, Exhaust System, Front Drive Axle, Front Drive Suspension, Fuel System, HVAC, Maintenance & Lubrication, Rear Suspension, Starter, Steering, Steering Column, Transfer Case, Universal & Rear Axle and lots more.
The biggest range of Toyota landcruiser parts around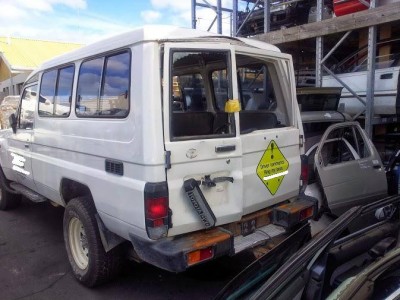 The first generation landcruiser was developed in the 1950's and was used in the army. The land cruiser vehicle became popular amongst drivers, especially in Australia, due to the fact that it drove well in the outback and withstood the weather. The release of the FJ40 in the 1960′s made sure that the Landcruiser became popular amongst the top brands;  such as the Landrover, Mitsubishi Pajero and the Nissan Patrol.
As time goes by the Toyota Land Cruiser has evolved to appeal to its consumers. It has become bigger, better, and more luxurious. The one thing that remains the same is that it is still reliable and very affordable.
For over 40 years we have been supplying clients with Toyota car parts, such as  Toyota Hiace parts, Prius Parts, Toyota corolla Parts and much more. We have become the best at what we do. So if your Toyota car is in need of affordable car parts contact us at Toyotaz Galore.
Here is the list of all Landcruiser parts available in stock for various models:
LANDCRUISER FJ60 -62 1987-89
LANDCRUISER HDJ80 8 9-97
LANDCRUISER HDJ100 98-
LANDCRUISER URJ/UZJ200 2007-
LANDCRUISER HZJ75
LANDCRUISER BJ40
2012 sees the release of the new Land cruiser, click here for more info.
---